Controversy on Yoga Day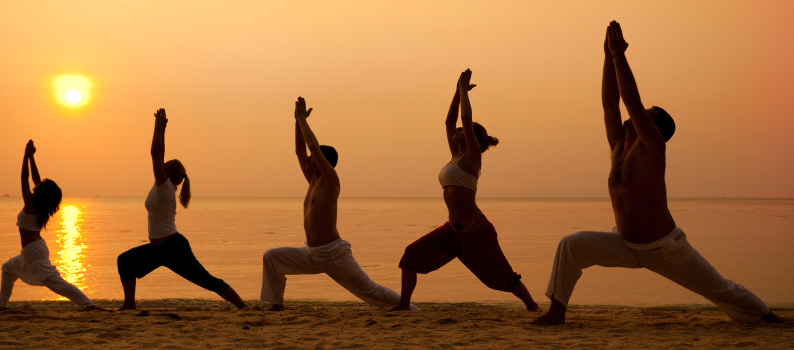 Along with food, festival and diversity if there is anything that is synonymous with India, then it is controversy. A country which is home to hundreds of different ethnic and religious communities, maintaining a state of constant harmony is even difficult than the proverbial 'herculean task'.
When Prime Minister Narendra Modi proposed the celebration of World Yoga Day on June 21st, which latter on got approval from the United Nation's General Assembly, a big section of the Muslim population was offended by this initiative. According to them, Mr. Modi, was forcefully trying to implement a Hindu nationalistic agenda of his party, by imposing the celebrations of yoga, which is primarily a Hindu practice.
According to some Muslim activist groups, forcing them to chant the mantra of "OM" during the yoga practice is a direct violation of their religious rights. According to them even Surya Namaskar is also a Hindu ritual, which violates the monotheistic nature of Islam.
The controversy went to an all-new level when Kamal Farooqui, a member of the Muslim Personal Law board told BBC Urdu that the government is deliberately trying push Hindu rituals on non-Hindu's. Replying to this statement one of the members of the ruling BJP party commented that Muslims who are opposed to yoga should "drown in the sea".
In response to the objections raised by the Muslim leaders Cabinet minister Sushma Swaraj said that yoga has nothing to do with religion and in fact 47 Muslim countries are co-sponsoring the event jointly with India. She also added that "Yoga is the best soft power India has to bring the world together and end the increasing trend of violence". Latter on however, the Indian government had backed off from including Surya Namaskar as part of the celebrations to put an end to this controversy.
The controversy regarding June 21st celebrations took a whole new turn when the Congress party member's from Jharkhand questioned the government's authority to spend public money for such celebrations. They organized a 'Walk for Nation and Society' where hundreds of workers assembled promote the idea of walking and oppose the idea of privatizing yoga.
The Third controversy was related to the absence of Vice President Hamid Ansari from the celebrations at Rajpath. It was later revealed that as per protocol, he was not invited by the officials from the Prime Minister's office, which was indeed a very bad PR move by the Narendra Modi government.
Let us just hope that people are able to benefit from this ancient practice of holistic healing, across all religious and communal barriers and transforms this world into a better place to live in.