Logo of International Yoga Day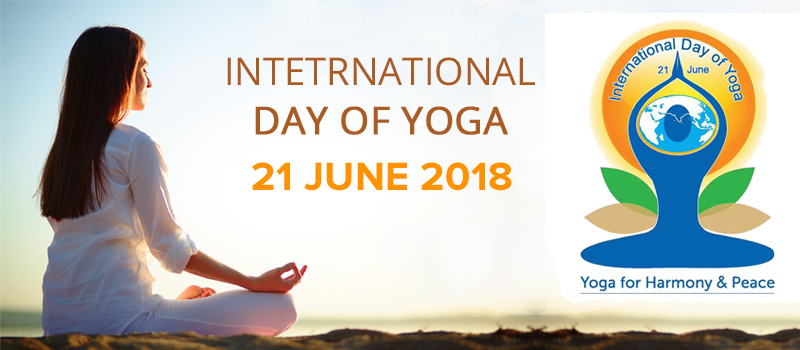 International Yoga Day was declared on 21st June by the UN General Assembly on the recommendation of the Indian Prime Minister Narendra Modi on 11th December 2014. The proposal for the declaration was approved by 177 nations in a record time of 12 weeks which is a great achievement for the external affairs team of the present Indian Government.
The logo for the International Yoga Day was handpicked by Prime Minister Narendra Modi and is said to represent all the basic elements that constitutes the basic consciousness.
The logo is etched on a white background representing a pair hands stretched outwards from the body and joined together.
The joining of both the hands symbolizes the union of individual consciousness with that of the universal consciousness. This symbolizes a perfect harmony between the body, mind and the soul which is the ultimate aim of any yogi.
Below the human art form, there are 2 pairs of brown and green leaves, symbolizing the elements of earth and nature.
The blue human figure symbolizes the element of water and the orange halo above head, symbolizing the element of fire, which is the source of all energy and hence commands the topmost spot.
Behind the human figure, a picture of the globe can be seen which symbolises solidarity and oneness, which is one of the main principals of the Narendra Modi government.
Below the logo the words "Yoga for harmony and peace "are inscribed which is believed to be the essence of Yoga.
The logo was created by an 18 member team of New Delhi-based Panchtatva Advertising. The logo was selected through an open contest to increase participation from all sections of the society. The logo was officially launched by External Affairs Minister Sushma Swaraj and Minister of State for AYUSH Shripad Yesso Naik in New Delhi.