International Day of Yoga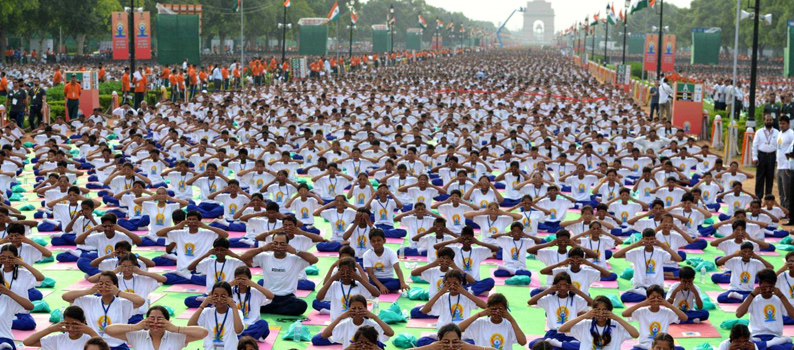 Yoga is regarded as one of the most effective methods of establishing a connection between the body minds by Indian sages since time immemorial. It is a type of exercise that is performed through diet, breathing and physical posture for the relaxation of body and mind. This ancient form of holistic healing got a formal recognition by the United Nations General Assembly on December 11, 2014. The UN General Assembly formally recognized 21st June as the World Yoga Day. The resolution, led by India, was adopted without vote by 177 out of the 193 countries that constitute the UN. It had 175 co-sponsors, the highest ever for any such resolution in the UN General Assembly.
History of International Yoga Day
The root of this historic declaration can be traced back to the year 2001, when the proposal for a "World Yoga Day" was observed by Portuguese Yoga Confederation and the Yoga Samkhya Institute. Consequently the first World Yoga Day was celebrated on 21st June 2002. The first steps towards this declaring was taken on a conference, titled 'Yoga: A Science for World Peace' which was held in Bengaluru on 4th and 5th December 2011. It was the first time in history, that yoga guru from all parts of the world was endorsing the idea for an International Day for Yoga.
Significance of 21st June
Indian Prime Minister Narendra Modi in his speech to the UN General Assembly suggested the date 21st June as World Yoga Day. The date holds special significance as it is the longest day in the northern hemisphere and is one of special two days when the rays of the sun directly hit one of the two tropical latitude lines. The change of the sun's relationship with the planet bears a significant impact on the lives of the inhabitants of this planet, especially for people residing within eighteen degrees to forty-eight degrees north latitude, because this part of the earth gets the maximum impact in this shifting.
Observance of International Yoga Day 2015
On June 21st 2015 the first International Yoga day was celebrated in different parts of the world. The main action was centered on the Indian capital city of New Delhi, where a record number of 35985 people from 84 different nations practiced yoga on Rajpath for 35 minutes. It was a world record in itself. It is estimated that around 200 million people worldwide practice yoga. The number stands at 20 million in United States alone. With this declaration more and more people are expected to adopt this method of healing which would benefit them in the long run.